S&S Northern's apprentices are helping to build the company's future by successfully completing their apprenticeships and bringing new skills and ideas to the business.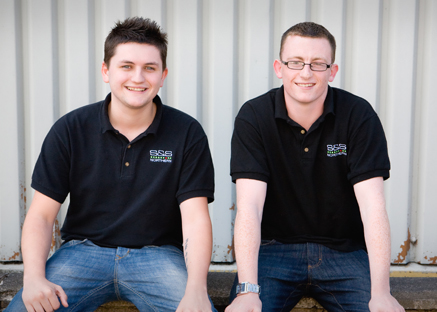 Trainee Estimator, George Dobson, aged 19 from Leyland, was awarded his Business Administration NVQ Level 3 just last month. George joined S&S Northern in 2011 as a Business Administration Apprentice straight from college.  He supports the team with estimating, online enquiries, sales and technical enquiries from customers.
Steven Halliday, aged 22 from Coppull completed a Business & Administration/Customer Service NVQ Level 2 apprenticeship at college in the spring.  Steven is Customer Service Engineer & Estimator responsible for the processing and despatching of all customer orders.  He is also responsible for stock control, quotations, technical support and warranty information.  He joined S&S Northern as in 2008 after working in sales in the printing industry.
George says, "I am really enjoying working with S&S Northern, it's a great company and I have received really good training for my future.  I now want to develop my skills and experience further to help the business grow in the future."
Steven says, "S&S Northern is known for the high level of customer care it offers, and I am committed to continuing this.  I am also developing my knowledge in the commissioning and maintenance areas of the business for the longer term." As a result of the success of their apprentices George & Steven, S&S Northern decided to recruit a new apprentice in the spring, making it 2 apprentices in less than 2 years.
Managing Director Steve McMahon says, "Recruiting apprentices really appeals to us because we need young people who can grow with the company and who we can train to do things the way we want to meet the needs of the business.
"The new ideas and input we have received from our apprentices has been second-to-none and their commitment, loyalty and support has been great. They bring new skills to the table which helps us to stay fresh and this has unquestionably helped us to maintain year-on-year growth."